Range
Les vins Amstramgram
See all wines
Other vintages

Exquisitely pale pink, with highlights like tumbling Ceres rose petals. The nose is deliciously fruity in notes of exotic fruit such as mango and pink grapefruit underlined with the fragrance of spice. Smooth and beautifully balanced, the palate offers notes of white - fleshed fruit culminating in a menthol fresh finish with a touch of cinnamon. A magnificent Appellation rosé with superb complexity and concentration that allows it to be enjoyed not only in summer but all through the year. A revelation not to be missed!
Technical sheet
Appellation
AOP Languedoc
Vintage
2018
Varieties
30% Grenache noir, 20% Mourvèdre, 50% Cinsault.
Alcohol
12.5% alc./vol
Terroir
Limestone clay. The warm, sunny climate with low rainfall is typically Mediterranean. Winters are mild, the summers hot, and regular dry periods allow the grapes to ripen perfectly.
Vinification
The harvest dates are chosen in order to obtain perfect balance. The Cinsault and the Mourvèdre grapes are picked according to their vivacity, whilst the Grenache is harvested at optimum ripeness. Total destemming is followed by maceration at 15°C for two hours then temperature - controlled fermentation at 16°C. Fine lees are added at the moment of racking before alcoholic fermentation to add structure and complexity to the palate. There is no malolactic fermentation.
Geographical location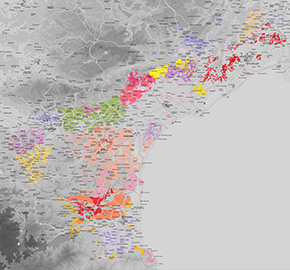 Find out more about the area
Toolbox
Downloads