See all wines
Villa Blanche
Piquepoul Noir
A stunning, gleaming light garnet red colour. The nose is characteristic of this relatively unknown grape, with deliciously fruity small red berries, pomegranate and cherry, threaded through with floral notes, white pepper, mint and aniseed. Delicate, fresh and fruity in the mouth with very fine, upfront tannins. It is a variety that offers the simple pleasure of an honest wine in notes of blackcurrant and redcurrant. The 2020 vintage is a generous one, to be drunk with a plate of charcuterie, a barbecue, and good friends. May be serve chilled.
Technical sheet
Appellation
Vin de France
Vintage
2020
Varieties
Piquepoul Noir
Alcohol
12.5.% alc./vol
Terroir
Terroir of limestone clay garrigue and 40 % red ferrous clay. The earth is well draining and aerated due to its stony composition. The vines are planted at 100 metres altitude where the regular winds maintain the good sanitary condition of the vineyard.
Vinification
The grapes are destemmed and sorted before being fermented at around 25°C, with 10 minutes pumping over per day. The cap is moistened every day at the end of maceration. Vatting last 10 days, with malolactic fermentation after cold settling in cement tanks.
Ageing
Aged in cement vats for 5 months before light filtering and bottling.
Recognition and awards
La Tulipe Rouge

1 Tulip

Top 100 Sud de France 2021

Top 100

La Tulipe Rouge

1 tulipe

Read article
Geographical location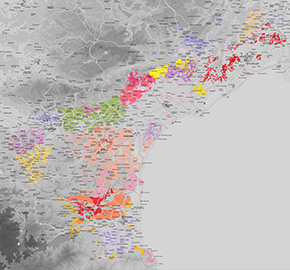 Find out more about the area
Toolbox
Downloads