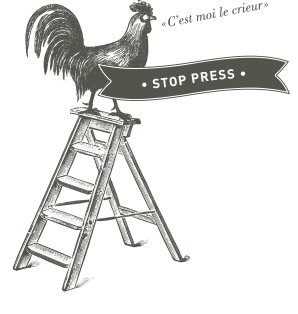 Food and wine pairing – Calmel & Joseph with Jérôme Ryon
This week, chef Jérôme Ryon of Carcassonne's La Barbacane restaurant has given us a recipe for a wonderful dish to pair with our Chardonnay Villa Blanche (available to order here).
To serve 4
INGREDIENTS
8 fresh scallops in their shells
200g of porcini mushrooms (fresh or frozen)
100g shrimps
garlic
1/2 litre single cream
50g flour
50g butter
nutmeg
50g grated Emmental cheese
Rye breadcrumbs
PREPARATION
1 Open the scallops, set the shells to one side. Chop into large cubes, add salt and pepper to taste. Boil the porcini mushrooms with salt and thyme, drain and reserve the cooking water. Chop the mushrooms and pan fry with a little garlic. Shell the shrimps and reserve the heads. Set aside six shrimps per shell for decoration. Chop the remainder.
2 For the bechamel sauce melt 50g of butter in a pan and beat in 50g of flour to form a paste, or roux.  Heat the cream with the shrimp heads, scallop shavings and a little of the mushroom cooking water and gradually stir the liquid into the roux. Add salt, pepper, nutmeg, and grated cheese and mix thoroughly. Allow to cool slightly.
3 Stuff each shell with the mix of scallops and mushrooms and the chopped shrimps. Pour the bechamel sauce over the scallops and top each shell with 6 shrimps. Cover with breadcrumbs and dot with butter.
4 Preheat the oven to 180° then bake for 10/12 minutes until golden.
Bon appetit!