Range
Les vins Amstramgram
See all wines
Epicurius
Deep purple red for this atypical blend of Malbec and Petit Verdot that offers a beautifully complex, expressive nose of blackcurrant, violet, and mango plus more spicy notes such as cinnamon, white pepper and a touch of curry. The tannins are supple, round, and rich with superb balance on the finish. Stunning power from the very first mouthful, crammed with blackberry, blackcurrant, and wild strawberry with a very elegant, spicy middle palate that unfolds to reveal a lovely fresh finish in notes of white peach, apricot and mango, but also pomegranate, liquorice, violet and a suggestion of smoky vanilla. L'Epicurius is always a surprise that will, as its name suggests, tempt the curious and the epicurean.
Technical sheet
Appellation
IGP Pays d'Oc
Vintage
2022
Varieties
60 % Petit Verdot
40 % Malbec
Alcohol
13.5 % alc. /vol
Terroir
Limestone clay. The climate is Mediterranean with a continental influence typical of the Limoux terroir for our Malbec, and profoundly Mediterranean nearer to the coast for our Petit Verdot.
Vinification
Traditional vinification with total destemming and no crushing for the 2022.
Light pumping over for 10 minutes a day with fermentation temperature kept between 24° and 26°C for the Petit Verdot and 28 °C for the Malbec. Total vatting time of two weeks for the Petit Verdot and 4 weeks for the Malbec. Malolactic fermentation carried out on clarified wine to conserve the maximum fruit.
Ageing
- Concrete vats: 80% of the volume
- Barrels: 20% of the volume
- Duration: 6 months
Geographical location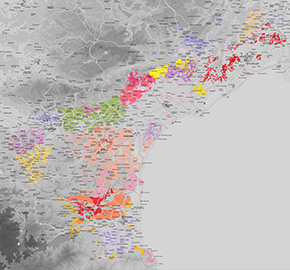 Find out more about the area
Toolbox
Downloads