Range
Les cépages anciens
See all wines
The colour, as always, is intense red veering towards violet and black. The wine opens with aromas of luscious black fruit, crushed strawberry, laurel leaf, wild fennel, and black pepper. It is beautifully fresh and youthful, full and smooth, with chiselled tannins, bursting with blackcurrant, blackberry, redcurrant, fennel, mint, and dill, before finishing on liquorice and spicy notes. When crafted with meticulous care, this hybrid grape (a cross between Grenache and Cabernet Sauvignon) can give stunning results thanks to its knife-edge balance and its originality. Perfect for drinking all year round.
Technical sheet
Appellation
IGP Pays d'Oc
Vintage
2022
Varieties
Marselan
Alcohol
14% alc./vol
Terroir
Limestone clay. The typically Mediterranean climate, with its mild winters, hot summers and low rainfall offers ideal conditions for the grapes to reach perfect maturity.
Vinification
Traditional vinification, with total destemming and partial crushing (50%). Short 10 minute pumping over sessions carried out daily with fermentation temperatures at around 25 to 28°C. Tota vatting time was three weeks. Malolactic fermentation took place after settling.
Ageing
This wine is aged in barrels one wine old for 4 months before being bottled.
Geographical location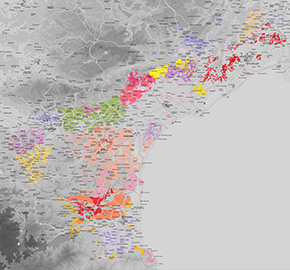 Find out more about the area
Toolbox
Downloads