Range
Les cépages anciens
See all wines
Villa Blanche
Terret Blanc
This ancient grape variety, native to the Languedoc, that grows around the perimeter of the Thau lagoon was largely forgotten at the end of the 20th century then rediscovered as a result of the resurgence of the Languedoc cultural identity. This new 2017 vintage once again offers up a wine with beautiful greenish gleams. The nose is refined and very fresh, with exotic, aniseed aromas. The mouth is clean, elegant, with persistent notes of citrus fruit and always that touch of salinity, characteristic of this grape, on the finish. It is a wine that will accompany a seafood platter, fish or white meat dishes to perfection, at any time of year.
Technical sheet
Appellation
IGP Pays d'Oc
Vintage
2017
Varieties
Terret Blanc ou Terret Bourret 100%
Production
50 HL / Ha
Alcohol
12 % alc./vol
Terroir
Clay limestone
Vinification
The grapes are harvested at night to ensure they remain cool. They undergo a short maceration of about 4 hours before being pressed and fermented at around 16°C. When alcoholic fermentation is complete, the lees are stirred weekly to maintain them in suspension over a period of a month. There is no malolactic fermentation.
Ageing
The wine is aged in vats on lees for three months.
Recognition and awards
Raymond Chan

17/20 **** . This is a tightly bound Terret Blanc with stonefruit ...

Read article
Decanter WWA 2018

Bronze

IWC 2018

Silver medal

Jancis Robinson 08/03/2018

15.5/20 it's very easy and bright and candyfloss fun with fabulous zingy acidity. ...

Read article
Press
Daily Mail - Mail online - Helen McGinn - 06/09/2018 - 09/2018

Read article

Independent - Terry Kerby - 02/09/2018 - 09/2018

Read article
Geographical location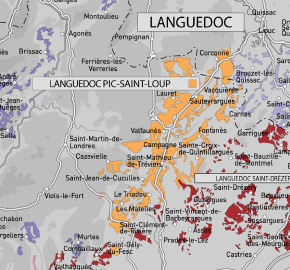 Find out more about the area
Toolbox
Downloads