See all wines
Brilliant gold with flashes of green. This is a vintage of great balance that has produced some really compelling wines. True to form, this Chardonnay offers us expressive aromas of white fruit, apricot and white peach, with hints of aniseed and vanilla on the finish that add complexity and an elegant freshness. Skilful blending creates a balance between density and tension that is rare for our region. All the characteristics of truly great Chardonnay are here, underlined by toasted notes and touches of grilled hazelnut. A stunning wine for its great originality and touch of salinity on the finish. Villa Blanche Chardonnay is just inimitable; frequently copied, but never equalled.
Technical sheet
Appellation
IGP Pays d'Oc
Vintage
2020
Varieties
100% Chardonnay
Alcohol
13.5% alc./vol
Terroir
Volcanic, clay and limestone. The climate is typically Mediterranean, warm and sunny with low rainfall. Winters are mild, summers are hot and the usual dry conditions ensure that the grapes ripen fully. Vines are ploughed; no weed killer is used. Pruning is short to regulate the vine's growth and its yields.
Vinification
The grapes are picked at night, in two passes. The first harvest is done at a relatively early stage in maturity, to keep freshness in the wine. Then 15 days later a second harvest is done, to get good concentration and varietal aromas. Grapes are destemmed and then macerated at 5°C for 4 hours. Fermentation is termpature-controlled 15°C (no malolactic fermentation)
Ageing
Our Chardonnay are aged for 3months in oak barrels then bottled.
Geographical location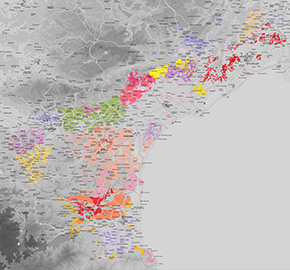 Find out more about the area
Toolbox
Downloads