See all wines
A dense, inky colour with dark violet reflections. The nose has a distinctive spiciness that is powerful and ripe. Peaty aromas mingle with notes of mocha, red fruit, and different kinds of pepper. The mouth is round, full, and dense with superbly smooth tannins. A few touches of vanilla and nutty aromas reinforce an astonishing freshness. This Marselan will surprise novices and connoisseurs alike.
Technical sheet
Appellation
IGP Pays d'Oc
Vintage
2020
Varieties
100% Marselan
The Marselan varietal is a cross between Cabernet Sauvignon and Grenache Noir. It was created in 1961 near the town of Marseillan by the INRA research body and is now planted in vineyards in the Languedoc, Rhône Valley, Spain, the North Coast of California, Switzerland and Israel.
Production
40 HL / Ha
Alcohol
13.5% alc./vol
Terroir
Volcanic, clay & limestone. The climate is typically Mediterranean, warm and sunny with a low rainfall. Winters are mild, summers are hot and usual drought conditions fully matured the grapes.
Vinification
Tradition al vinification after destemming and partially crushing of 50% of the harvest. Cap punching operations (pigeages) were carried out each day with a fermentation temperature between 25 and 28°C. The wine spends a total of 3 weeks in vat. The malo-lactic fermentation was carried out on the settled wine.
Ageing
Wine is aged for one year in concrete vats before bottling.
Geographical location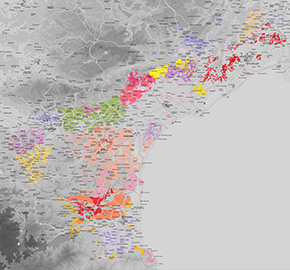 Find out more about the area
Toolbox
Downloads