See all wines
Beautiful deep ink colour.Dominated by red fruit fragrances with notes of vanilla, moving to coffee roasted fragrances. The mouth is intense, full bodied with beautiful silky tannins. The finale offers a hint of fruits with alcohol. To enjoy with red meat and spicy food.
Technical sheet
Appellation
IGP Pays d'Oc
Vintage
2011
Varieties
100% Syrah
Alcohol
13% alc./vol
Terroir
Volcanic
The climate is typically mediterranean, warm and sunny with a low rainfall. Winters are mild, summers are hot and usual drought conditions fully matured the grapes. Concerning the culture: vines are ploughed. We do not use weed killer. Pruning is short to regulate the vine's growth and its grapes yields. The vines shoots are tied up along vires to be given the favorable angle to ripen the grapes.
Vinification
The grapes are picked up by machines at the best maturity. Picked up early in the morning to avoid that warmness do oxidize grapes. The whole grapes are placed in vats. The process of fermentation starts naturally. It starts with the juice that runs from burst grapes and also takes place into each grape. The maceration lasts for 8 days, it allows the full extraction of fruit flavours.
Ageing
The wine is bottled at the Estate and stocked in piles in an appropriate cellar.
Recognition and awards
Collection IGP – Pays d'Oc

Silver Medal
Geographical location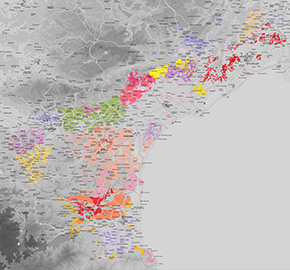 Find out more about the area
Toolbox
Downloads